Biloxi Live Music
Biloxi is renowned for its Vegas-rivaling casinos, white sandy beaches and championship-level golf courses. While never a true musical mecca, Biloxi is starting to lure in a strong caliber of musical acts to prove that this city can hang with the likes of neighboring New Orleans and Mobile. From casino theaters to arenas to local dives, national and indie recording artists have a Biloxi venue that will fit any style.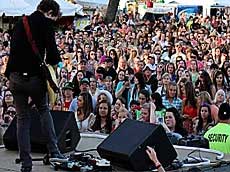 There's always someone rocking at Hard Rock Live at the Hard Rock Hotel and Casino. This ultra-cool venue has attracted some of the biggest names in rock, including Bret Michaels, 3 Doors Down and Kid Rock. Country fans have rocked out with Trace Adkins and Montgomery Gentry, while the crowds packed in for legendary favorites, such as the Doobie Brothers, Lynyrd Skynyrd and Heart. Virtually every weekend, you'll find the joint packed to see the biggest and best in the music industry.
The Beau Rivage Theatre used to be known for bringing in the best comedians and legendary musical artists. In the past, guests have been treated to tons of belly laughs from the likes of Chris Rock, Jerry Lewis and Jay Leno. Legends in the music industry, including Chicago, Hall & Oates and the Four Tops and Temptations, make Biloxi a frequent stop on their respective tours. Now, the 1,500-seat casino theater is upping its game and hosting some of the current top musical acts, such as Robin Thicke and Jennifer Hudson, the Black Crowes and "American Idol" winner David Cook.
While these two venues are the heavy hitters for live music at the casino, the IP Casino Resort in Biloxi isn't trailing far behind with its newly remodeled IP Showroom, showcasing two venues with Studio A and Studio B. Country sensation Kellie Pickler and boy band extraordinaire New Kids on the Block recently entertained the masses at these new hotspots.
While many artists prefer the smaller, intimate venues that the casinos offer, the Mississippi Coast Coliseum still remains a top draw when bands are building their tour itinerary. In recent years, the Coliseum has played host to a star-studded cast of musicians, including Keith Urban, Kenny Chesney, Elton John, Faith Hill and Tim McGraw, Michael Bublè and Taylor Swift.
Looking for good music on a smaller scale? Check out Government Street Grocery in historic downtown Ocean Springs. Grab a bite to eat and take in some of the best indie music from across the United States. The Dock Bar & Grill on Gulfport Lake is another local favorite, although relatively new. Blues Traveler has already made a stop at The Dock, and there are plans in the works for bringing in Cowboy Mouth, the Marshall Tucker Band and the Georgia Satellites in the near future.
Article written by Stacy Ramsey. Ramsey is a freelance writer/editor who lives along the Mississippi Gulf Coast.
Travel Guide Links
Search Biloxi.net Website