Biloxi Airport
It was 1949 when Gulfport Field officially became a passenger airport. Prior to that, the airport was used strictly for training B-25 and B-29 flight crews for World War II.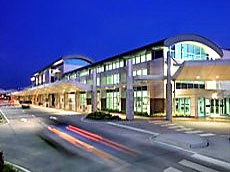 Southern Airways was tapped as the primary airline through the 1970s, eventually taken over by Republic and Northwest.
Gulfport-Biloxi International Airport, which got its name in 1977 when the cities of Gulfport and Biloxi joined to create the airport, is still very much affiliated with the military. In addition to regular passenger service, it houses one of four national high-tech Combat Readiness Training Centers, where more than 20,000 Air Guard and Reserve flight personnel converge annually for training.
Because of explosive casino growth in the 1990s, the airport saw a 400 percent increase in passengers.
Today, the Gulfport-Biloxi International Airport is humming along, offering non-stop service to eight major cities and serviced by five airlines. Inside, passengers will find several restaurants to choose from, including the Bayou Bakery and the Lazy Magnolia Brewhouse and Restaurant.
The airport is located in Gulfport, between New Orleans and Mobile, Ala. It is just one mile south of Interstate 10, exit 34A.
There are several hotels located nearby:
Travel Guide Links
Search Biloxi.net Website