Biloxi Day Trips
See what you available day trips are in and around Biloxi Mississippi.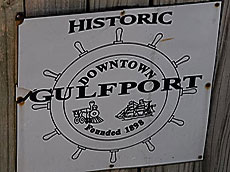 Gulfport Mississippi - 13 Miles
Gulfport, which is a short 13 miles from Biloxi, is a beachfront community that was recently named one of the top 10 fastest growing small metro areas in America by Forbes magazine. Gulfport was founded by a Civil War captain and now is the second largest city in Mississippi. If you're staying in Biloxi, take the Coast Transit to get to Gulfport. Daily routes are available.
Things to do during your visit to Gulfport include playing a round of golf at Bayou Vista Golf Course (13756 Washington Ave.), a public, 18-hole course with some challenging dog leg fairways. Also, fishing, fishing and more fishing. Charter a boat and grab your rod. There are red snapper to be caught! Fishing charters dot Gulfport, but a few to consider: Bull Red (228-234-5960), Fins and Grins (www.finsandgrinscharters.com), 9-Ball Fishing (800-726-0919) and Go Fish Charters (www.gofishms.com/index.htm).
Got the kids in tow? Be sure to take them to Gulf Islands Waterpark (www.gulfislandswaterpark.com), home to the Horn Island Blaster, the Gulf Coast's first and only water roller coaster, and many other water rides. Gulfport is also home to Magnolia State Rocker, the world's largest rocking chair (11451 Canal Road) at 35 feet tall.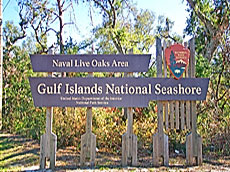 Gulf Islands National Seashore
This 150-mile stretch of national park spans both Mississippi and Florida and includes two districts that are about two hours apart. The park is made up of wild barrier islands and coastal mainland, comprised of various terrain, including salt marsh and a southern magnolia forest. The Mississippi region includes four barrier islands: Horn Island, Pette Bois Island, East Ship Island and West Ship Island.
Paddling and hiking these islands is a popular tourist activity. You can access West Ship Island (March through October) by taking a passenger ferry from Gulfport. Call (228) 864-1014 for more information.
Pascagoula Mississippi - 20 miles
A major industrial area of Mississippi, Pascagoula started as a small fishing village and exploded onto the scene after World War II spawned the shipbuilding industry. Pascagoula hosts the state's largest employer, Ingalls Shipbuilding, but may be better known as the birthplace of parrothead Jimmy Buffett.
History buffs will want to visit Old Spanish Fort Museum (4602 Fort Street, 228-769-1505), which was taken over by the Spanish in 1779, but only occupied it en masse during the 1810 Baton Rouge Rebellion. Its 18-inch thick walls are constructed of mud, moss and oyster shells.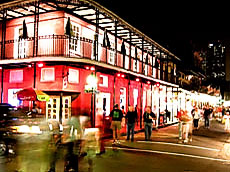 New Orleans - Aabout 80 miles
What can we say about New Orleans other than ... it's New Orleans! Home of Mardi Gras, jambalaya and gumbo, and the French Quarter, New Orleans is just a hop, skip and a jump from Biloxi. Talk about the ultimate day trip. New Orleans is still in the process of rebuilding itself after Hurricane Katrina, but its soul can still be felt when walking down Bourbon Street.
New Orleans has an interesting history. Africans and American Indians comingled with European settlers, and New Orleans isolated itself from the rest of the New World, garnering its influences from the French and Spanish empires until the Louisiana Purchase in 1803.
You can easily spend a few days in New Orleans just sampling the local cuisine. From muffulettas and beignets to cajun and creole (there is a difference!), New Orleans' diverse eats are half the fun of visiting.
Attractions run the gamut from the Audubon Aquarium of the Americas (1 Canal St., www.auduboninstitute.org) and Beauregard-Keyes House (1113 Chartres St., 504-523-7257) to Jackson Square (751 Decatur St.) and the National WWII Museum (945 Magazine St., www.ddaymuseum.org), New Orleans is spilling over with things to do. These suggestions don't even scrape the surface.
Mobile Alabama - 60 miles
Although it's associated more with New Orleans, Mardi Gras was first celebrated in the U.S. in Mobile, Ala., in 1703.
Golf and seafood are favorite pastimes in Mobile. In fact, Mobile is dubbed the Culinary Capital of the Gulf Coast, famous for fresh, just-off-the-boat seafood like shrimp, blue crabs, oysters, flounder, you name it. Mobile is home to 21 golf courses that can be played year-round, and was named one of the top 10 value destinations for golf in the United States by Golf Digest.
Attractions include the
USS Alabama Battleship
(www.ussalabama.com) and 5 Rivers: Alabama Delta Resource Center (www.outdooralabama.com/outdoor-adventures/5rivers). Mobile is also a port city for Carnival Cruise Line.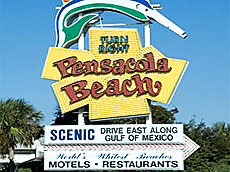 Pensacola Florida - 100 miles
Pensacola, Florida, is not quite two hours from Biloxi and well worth the visit. With 52 miles of beaches and four centuries of history, Pensacola is a Florida must. How can a place that averages 343 days of sunshine not be?
Packed with outdoor adventures, museums, cultural diversity and the world's largest artificial reef, Pensacola offers plenty to do for the entire family. Spend a day uncovering Pensacola's rich history (the city was discovered in 1559 by a Spanish sailor and established as one of the first European settlements in North America) or fishing from the Gulf's longest pier (Pensacola Beach Fishing Pier is 1,471 feet long).