Biloxi Mississippi Local Travel Guide
Everything Biloxi does, it does big. From its days as the Seafood Capital of the World to its presence in the military, the Mississippi city has gone all out. Now Biloxi has turned into a coastal Las Vegas.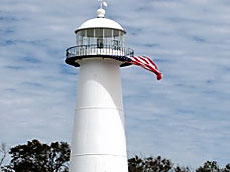 Gambling has become the lifeblood of the town. Biloxi (also referred to as Casino Coast) has generated billions in casino revenue, and has added more than 10,000 hotel rooms to its inventory. That's not all. The Mississippi Gulf Coast's room inventories rival those of Reno Nevada and Atlantic City. Not bad for an otherwise sleepy Southern town.
Don't let the neon signs fool you though. Outside of the cha-chings of slot machines, this honky-tonk city is still the same. It still has a beach (even though it's man-made), its main drag is still lined with old-style Southern mansions, it's still a major fishing hub and there's plenty of dust in the air. Oh, yeah, and the history is still ever present, especially in those areas of the city that are not so aesthetically pleasing (which, believe it or not, are as much a part of Biloxi's charm as its residents).
Special Discount Rates on these Biloxi Hotels
Travel Guide Links
Search Biloxi.net Website