Imperial Palace Casino Biloxi
Nestled on the Back Bay in Biloxi, the IP Casino Resort & Spa's towering 32-story hotel is hard to miss over the Biloxi landscape. More than 1,000 luxe rooms, highlighted by free Wi-Fi Internet, mini bars and two telephones, inhabit the IP Biloxi. Guests may choose from rooms with a king bed or two queen beds, and if you're lucky, you may find a suite available.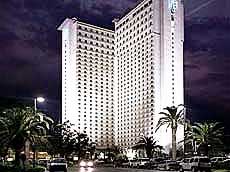 State-of-the-art gaming can be found at the IP Biloxi, where the casino reports over $200 million in jackpots being awarded since December 2005. The casino at the IP spans three floors and includes a non-smoking poker room, 60-plus table games and more than 1,900 slots. Poker tournaments occur daily.
The IP is also known for having some of the best restaurants in town. The Back Bay Buffet is one of the most popular casino buffets, with its generous array of meals from all over the world. Its three main restaurants, Tien, Thirty-Two and Carnaval de Brasil, offer delectable cuisine in an upscale environment. For more casual fare, grab a beer and take in a game at the Highlights Sports Lounge or drop in at the High Tide Cafe for breakfast, lunch or dinner.
The IP Biloxi is also coming to the forefront of entertainment with top acts in show business performing at their Studios A and B. Live entertainment can be seen throughout the week at the Chill Ultra Lounge and Thirty-Two Lounge. If the gaming, dining and entertainment weren't enough, the IP Casino Resort & Spa's amenities also include a swimming pool, arcade, fitness center, golf packages, retail shops and the Senses Spa & Salon.
View other casinos located in Biloxi Mississippi.
Travel Guide Links
Search Biloxi.net Website